Round eyes are preferred over cool elongated eyes.
First, we conducted a questionnaire on what kinds of eye shapes are favored in Japan. We received a variety of responses, from cool and long eyes, to those with a softer impression, but there is one trend in Japan that was by far the most popular.
Q. What do you think the most beautiful "eye shape" is?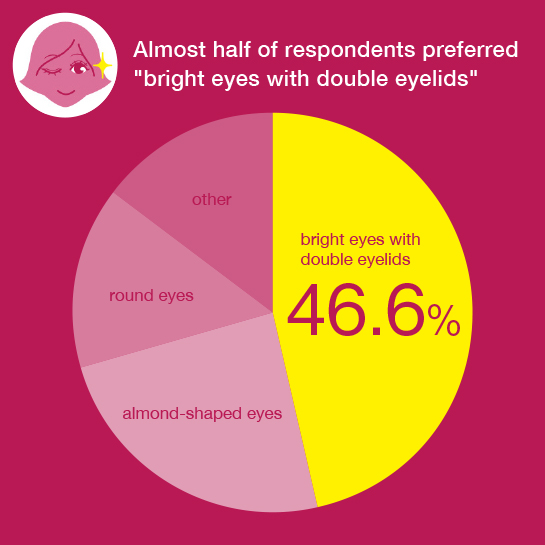 When we asked about what eye shape people felt was beautiful, we received the following results. The most common response was "bright eyes with double eyelids" at 46.6%, followed by "almond-shaped eyes" at 24.0% and "round eyes" at 14.7%. The eye shapes that were most favored had the common points of emphasizing how large and round they were. On the other hand, "thin upturned eyes" came in at 0.7%, while "upturned cat eyes" received 1.9% of the vote, showing that those who prefer a cool elongated outer eye corner are in the minority. More than giving off a strong or cool vibe, we saw that people favored an eye shape with a softer vibe.
Unique techniques, such as making double eyelids and eye bags.​ 
Q. What's your usual style of eye makeup?
A1. I have hidden double eyelids, so I use a dark eyeshadow slightly above my upper lash line. (Woman in her 20s)
A2. Fake eyelashes are a must. (Woman in her 30s)
A3. I emphasize my eye bags. (Woman in her 20s)
We also did some investigating on eye makeup techniques. The most common technique was to emphasize double eyelids. To create clear double eyelids, women used special tools, including eyelid tape. We also found women that were particular about how they showed off their eyelashes. Some women heated their eyelash curlers to help the curl last longer, while others used eyelash serum to elongate their lashes. One of the most distinct techniques we encountered was for eye bag makeup. In recent years, eye bags have been gaining attention mainly in Asia, as they can make the eyes appear larger and more gentle. A variety of techniques exist, including highlighting the lower eyelid to create a plumping 3D effect.
When you mention an "Asian beauty," including in Japan, most people think of someone who has eyes that are narrow, elongated, cool, and alluring. However, through this investigation, we discovered the unexpected trend of large bright eyes being more popular. This trend is sure to have some things in common with "kawaii culture," which has uniquely taken root in Japan out of all the countries in Asia. In the next entry, we will share about our research on food.
Research by Shiseido Japanese Beauty Institute
Research Period: December 2019
N = 2,000 Japanese women age 18-44